2018 LPEA Annual Meeting Of The Members Questions

2018 LPEA Annual Meeting Of The Members Questions
We received several questions with regards to individual accounts. We will address those with our members.
QUESTION: We have reported a low hanging wire several months ago. Who do we call for a follow-up? The low hanging wire has not been fixed and is a danger.
ANSWER: Call LPEA at 970.247.5786 or email Mike Dreyspring, CEO, at mdreyspring@lpea.coop.
Cyber Practices
QUESTION: What is LPEA doing to prepare for massive cyber-attack in Colorado or United States?
ANSWER: LPEA exceeds all NERC CIP requirements related to protecting cyber assets. We monitor for intrusions, regularly test for vulnerabilities and test our incident response plan. Our employees go through extensive and ongoing training related to cyber-security. In addition, we have multiple forms of disaster recovery and backups. For attacks that may impact LPEA's power supply for a sustained period, LPEA has an Disaster Recovery Plan that utilizes local generation resources to energize critical facilities within LPEA's service territory. Members should always be prepared and have supplies on hand in the event of a multiple day power outage.
Board of Directors
QUESTION: I notice that some of the current sitting directors aren't present at this meeting, in my opinion this is a pretty big meeting and the election is a huge priority. Is it typical for 3 board members to be missing at these board meetings?
ANSWER: No, it is not typical. Directors typically attend regular and special meetings of the board of directors. They also typically attend Annual Meeting.
QUESTION: What is purpose of long term strategies committee?
ANSWER: The Long-Term Strategies Committee was formed to identify gaps in LPEA's strategic plan. The board felt that the strategic plan was addressing the planning horizon approximately 5 years into the future, and that a longer look was needed. The committee was set up to identify issues to bring back to the full board to consider in the development of LPEA's strategic plan.
QUESTION: Why was a special committee appointed to micro managing management's work?
ANSWER: The assertion of this question is incorrect. Please see the question and answer above about the LTSC's purpose and scope of work.
Tri-State Generation & Transmission
QUESTION: What is the total percentage of coal in the fuel mix used by all sources of LPEA electricity (Tri-state and all purchased sources including Basin, etc.)?
ANSWER: Tri-State has not finalized 2017 generation resource number yet, but their best available data is forecasting 30% renewables and hydro in 2017. It takes several months after the close of the calendar year to reconcile data, including information from Basin and WAPA.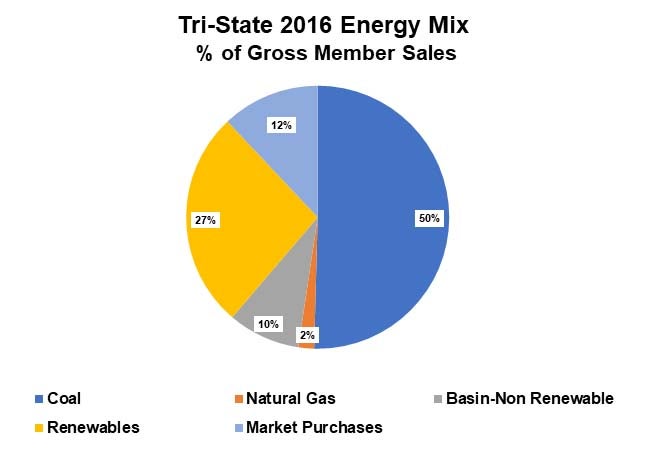 QUESTION: What wholesale electric rate did LPEA pay to Tri-State in the years 2002 and 2017?
ANSWER: Here is all the data since we have been a member of Tri-State in 1992
Tri-State Class A Rate Trending

 
 

Demand

Energy

Blended

% Increase

1992

11.82

17.38

36.44

 

1993

11.82

17.38

36.44

0.0%

1994

11.82

17.38

36.44

0.0%

1995

13.12

16.42

37.58

3.1%

1996

13.12

16.42

37.58

0.0%

1997

12.21

15.62

35.31

-6.0%

1998

12.21

15.62

35.31

0.0%

1999

12.21

15.62

35.31

0.0%

2000

12.21

15.62

35.31

0.0%

2001

13.53

17.06

38.88

10.1%

2002

13.53

17.06

38.88

0.0%

2003

14.46

18.31

41.63

7.1%

2004

14.46

18.31

41.63

0.0%

2005

16.66

20.56

47.42

13.9%

2006

17.37

21.33

49.34

4.0%

2007

18.32

23.74

53.28

8.0%

2008

20.56

26.43

59.58

11.8%

2009

21.5

27.35

62.02

4.1%

2010

21.5

27.35

62.02

0.0%

2011

21.5

27.35

62.02

0.0%

2012

22.38

28.95

65.04

4.9%

2013

0

71.76

71.76

10.3%

2014

0

73.56

73.56

2.5%

2015

26.49

28.2

70.91

-3.6%

2016

18.76

40.34

70.59

-0.5%

2017

19.34

42.04

73.23

3.7%

2018

19.34

42.04

73.23

0.0%

 
 
 
 
 

5-year Average Increase

0.4%

10-year Average Increase

2.1%

15-year Average Increase

3.8%

20-year Average Increase

3.7%

25-year Average Increase

2.8%
Incentives and Subsidies
QUESTION: How come we the members are subsidizing roof top solar 1 million dollars per year if solar is supposed to be cheaper than what we buy from Tri-State electricity? When will the board change this policy?
ANSWER: At the time the initial rates were set up, LPEA developed the rates with an eye toward Colorado Statute compliance. Now that we have multiple years of rate performance under our belt, we now know the rate structure for net metering needs to be reevaluated during the next review of rates, probably later this year.
QUESTION: The minutes show that in May the board approved taking $22,000 out of the budget every year to give to green projects fund which by the way was the first meeting the new directors (Racheal Landis & Guinn Unger) attended. How was this justified? Was this a pay back to the solar companies for their campaign support? (They may argue the money comes from Williams but that is not true. It affects LPEA rates and Guinn ran on the fact he was going to lower rates) Guinn promised to lower rates if elected just like his friends running this year. What happened? What is boards position on subsidizing renewables or providing incentives?
ANSWER: A motion approving a purchase power agreement between LPEA and a waste heat recovery project, was modified to appropriate $22,500 to LPEA's Voluntary Green Fund program from the entire membership. The board is always considering various incentives for the membership to support the evolution of various technologies that support the goals of the cooperative.
QUESTION: We've been told that LPEA pays approx. 7 cents for electricity from Tri-State and from what we've been told we are paying community solar gardens about double that (over 13 cents), Why? How much are we paying for roof top solar? Is LPEA is buying solar electricity during the day when we don't need it and giving them electricity for TS when it is most expensive to buy?
ANSWER: LPEA held three informational workshops diving into this topic in 2017. You can find them on our YouTube channel and our webpage. LPEA's current wholesale cost is approximately 7.3 cents per kilowatt-hour. Part of what drives net metering pricing centers around the timing on when net meters "bank" the energy they produce. Net meters spin one way when consumers are buying KWh from LPEA. The meter spins the opposite direction when consumers are selling electricity to LPEA. State law requires that Investor Owned Utilities (Excel Energy) buy up to 120% of the consumer's annual energy usage. The purchase effectively requires a retail price equal to LPEA's retail price.
QUESTION: Is LPEA considering buying out of TS? How much would that cost and how would it be financed?
ANSWER: LPEA's CEO has performed an analysis of the wholesale power supply contract's value from the supplier's perspective. Economically, LPEA must understand the value of the wholesale contract from LPEA's perspective and that analysis has not been performed. Therefore, at this time, LPEA does not know the net cost to LPEA members. Those discussions will be occurring in upcoming LPEA board meetings, at which members are welcome to attend. LPEA will work to mitigate rate impacts to members if the board opts to buy out of the contract. However, there is a substantial amount of analysis to be done prior to making that decision.
QUESTION: According to the minutes of the LPEA board meeting Britt Bassett encouraged other members of the board to vote to give John Shaw of Shaw Solar some of the cost of his (John's) expenses for his community solar garden – why is that and exactly how much did we give to Shaw Solar? Is Bassett invested in Shaw's gardens? I've hear the guy near Ignacio, that has a Community Solar Garden, brag that he makes more off the garden than the rest of his ranch makes. They must be lucrative. This smell of inside trading by special interests.
ANSWER: LPEA paid $19,844 out of the Green Fund (which at that time was completely voluntarily funded) for the additional Tri-State metering involved with Shaw's CR 318 solar garden. Since this was LPEA first solar garden, it was an unanticipated expense that LPEA did not include in our cost estimate. Director Bassett has given permission to disclose that he does not have any ownership stake in any CSG's. He is a subscriber to the Shaw Solar Garden at the Boys and Girls Club in Durango.
Tri-State Generation & Transmission
QUESTION: For Mr. McInnis – If the LPEA Board voted to expand renewable use, & you represented LPEA at Tri-State, why did you vote against the wishes of your own LPEA members?
ANSWER: Kohler McInnis explained this in his Tri-State report at the May 12, 2018 annual meeting. In the coming weeks you will find a video of LPEA's Annual Meeting, once it is available, we recommend watching it to hear Kohler's answer.
QUESTION: A member of LPEA Board also sits on the TR-State Board. How does this member represent LPEA's interest?
ANSWER: The director that sits on the Tri-State board has firsthand knowledge of the LPEA board's dialog about issues related to member's power supply and pricing. In addition, the director knows the overall demographics and expectations by reviewing and discussing load forecasts, member surveys, and by being generally engaged in the community in which the director lives.
QUESTION: When Kohler says Tri-State members are generating 30% of electricity through renewables – does that mean Tri-State is producing 30% of the power it sells using renewables or does that 30% include private renewable systems like individual rooftop solar?
ANSWER: In regard to Tri-State's 30%, the 30% includes all private member solar that Tri-State purchased the RECs on. A document provided to LPEA by Tri-State showed their calculation as follows:

Board Policy
QUESTION: It is my understanding some candidates turned their mailing lists over to other organizations which against the LPEA rules. If these individuals win will they be disqualified? If these organizations paid for their mailings, is that legal? Who is enforcing these policies? Whey violated LPEA's policy 117 and Federal Laws and Britt Bassett, Tim Wheeler, Jeff Mannix & Kristen Skeehan are under investigation by State & Federal authorities.
ANSWER: At this time there is no evidence any of the entities to whom candidates provided member lists violated LPEA's Board Policy 117, Disclosure of Cooperative Information, or the non-disclosure affidavit. Once the election results are certified, directors can only be removed per LPEA Bylaws Article III, Section 6. The CEO is responsible for the administration of Policy 117.
QUESTION: The CEO of LPEA is supposed to oversee the LPEA By-Laws-Policy 117 was violated during this election. Why didn't the CEO enforce these by-laws?
ANSWER: There was no violation of the bylaws or Policy 117.
QUESTION: When will the LPEA Board create a Policy directing all external communication go through the public relations manager. And direct all board members to public relations and not comment directly to the media.
ANSWER: Board Policy 104 Board of Directors – Chief Executive Officer Relationship, Section II G states "Directors shall act collectively, as the Board of Directors, under an approved order of business. Each director shall recognize that he/she has no authority outside of the Board meeting, except and unless specifically authorized or assigned a project with authority to act or speak for the Board. No director may individually make commitments for either the Board of Directors or the Cooperative."