2020 Board of Directors Election - District 4
LPEA is now accepting applications for a director seat in District 4 in compliance with Art. III, Sec. 7 of the LPEA Bylaws and LPEA Board Policy 120. The successful director candidate will fill the position vacated by Director Jack D. Turner upon the conclusion of the LPEA Board of Directors Meeting on September 16th, 2020 and will hold the position until the expiration of Director Turner's original term, occurring at the Annual Member Meeting in 2022.
To be eligible, candidates must:
be a member of LPEA for at least one year immediately prior to becoming a director 
be a bona fide resident of District 4 (North & East La Plata County) for at least 120 days prior to becoming a director
not be employed by, or have a spouse or child employed by, LPEA in any position.
To apply, candidates must submit an application form together with a cover letter, resume, and signed Qualifications Affidavit by 12pm Friday Sept 11th, 2020. 
Applications must be emailed to Board President Britt Bassett at bbassett@lpea.coop, with the subject line: Board Vacancy Application, or mailed to Attn: Board President, PO Box 2750, Durango, CO 81302-2750. Early applications are encouraged, and late applications will not be considered.
Interviews for candidate finalists will be held on Monday September 14th, 2020 during the Committee of the Whole meeting. Applicants are requested to remain available this day should they be selected for an interview. The new director will be announced on Wednesday September 16th, 2020 at the September LPEA Board Meeting. 
Supporting Materials: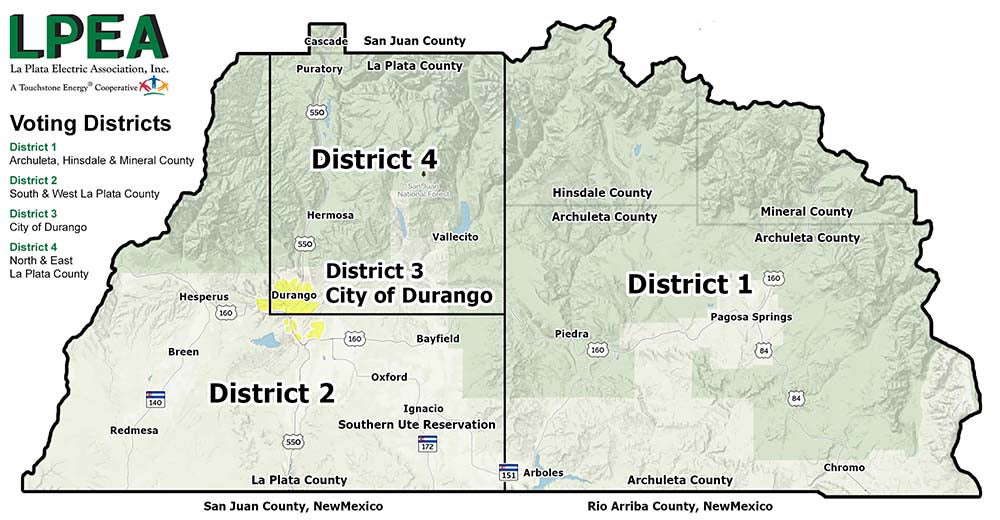 2020 Board of Director Elections
On May 16th 2020, the results of the LPEA 2020 director election were announced at the partial, virtual annual meeting. The official election results announcement can be found HERE.
Final 2020 director election ballot count
Candidate Campaign Finance Reports
As per LPEA bylaws, one-third of the directors' seats are up for election annually, one in each of LPEA's four districts. Candidates are required to be members in good standing and permanent residents of the district they seek to represent and cannot work for a competing enterprise or supplier of the cooperative, plus not be employed or have a spouse or child employed by the cooperative in any position. A complete list of director qualifications can be reviewed in LPEA's bylaws (https://lpea.coop/bylaws).