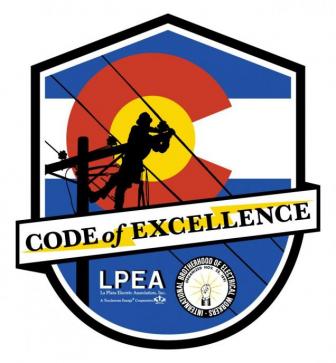 On January 9, 2020 the staff of LPEA – about 100 union members and managers – and the International Brotherhood of Electrical Workers (IBEW) set in motion a new Code of Excellence program at LPEA. For nearly 70 members of Denver Local 111, which represents workers statewide, the Code of Excellence is a trademark program to bring management and workers together on issues of safety, professionalism, accountability, relationships, and quality.
The IBEW Code of Excellence (COE) for the electrical industry is designed to ensure the highest standards of excellence on each and every IBEW workplace. Leaders and members commit to demonstrating the IBEW's core values in everything they do.
Those core values are known as SPARQ:
Safety
Professionalism
Accountability
Relationships
Quality
With that as the objective, the goals of the program are to:
Create a culture where safety is a top priority
Hold one another accountable to the standards of excellence
Provide a mechanism for addressing issues on the job before they escalate
Promote a sense of pride in our work
The IBEW Code of Excellence is an IBEW program, designed to instill a sense of pride and professionalism in its members. Leaders and members of the IBEW who commit to the COE do so because they know that demonstrating the SPARQ values are what set us apart from other electrical workers. However, the IBEW has a long history of productive labor-management partnerships, and the IBEW Code of Excellence has proven successful when the employer partners with their union. When working together, the IBEW and its employers have created a solutions-driven and proactive program that benefits their members, employers, and communities.
When a local union commits to the IBEW Code of Excellence, there is a formal training program that has been implemented across the USA and Canada. LPEA staff have undergone training about the expectations and opportunities that align with the implementation of the IBEW Code of Excellence. Now that the program has been implemented, ongoing awareness and communication is a core component of keeping the values of the COE at the forefront of every job.
To learn more about the IBEW Code of Excellence, click here.