Heat Pump Water Heater Rebates - RESIDENTIAL + COMMERCIAL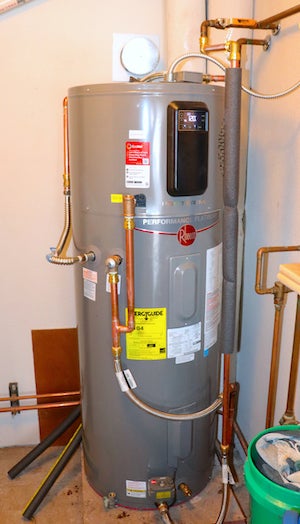 LPEA offers rebates for water heaters while funding lasts, which can save you up to $500 a year in fuel costs compared to propane. LPEA recommends that customers request a walk-through energy assessment on homes where electricity is the primary water heating system. 
Learn More about Heat Pump Water Heaters Here
Rebates vary based on the type of unit as follows:
$700 for a heat pump water heater. 
$50 for an electric-resistance water heater (Only if switching from propane/gas, or if managed through a WiFi enabled smart device or timer on Time-of-Use rates).
Timers are also eligible for a separate rebate. 
On-demand water heaters do not qualify for our rebate programs. 
Application instructions/requirements
Complete the form below. You will need to upload:
Proof of purchase and info/spec sheets for units installed.
IRS W-9 IRS W-9 form completed by the member/rebate recipient. A W9 is kept on file by LPEA as proof of allocation of funds. Any tax liability is the responsibility of the rebate recipient.
Submit applications within 90 days of installation.
Installations must take place in LPEA's service territory.
Heat Pump Water Heaters must have a minimum 30-gallon capacity.
Heat Pump Water Heaters must be Energy Star rated.
Rebates available while funds last.
LPEA reserves the right to inspect installations.
Water Heater Rebate FormDownload Brochure
Applications typically take 8-10 weeks to process. Heat pump water heater rebates are remitted as a check. Standard electric water heater rebates are remitted as a bill credit.
Having trouble submitting your rebate? E-mail us at rebates@lpea.coop.