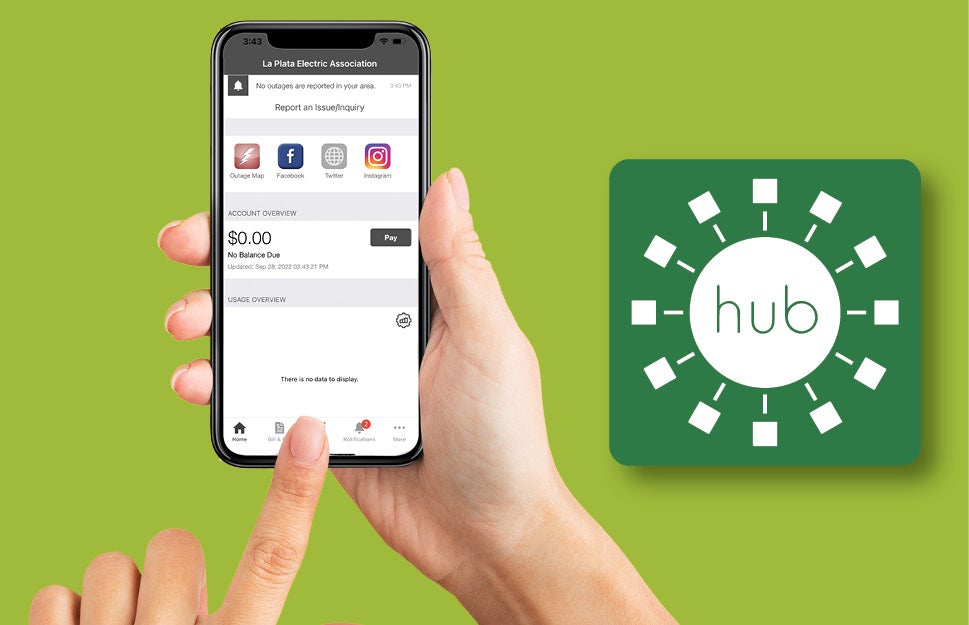 Click on the button below to pay your bill without logging on to the SmartHub portal. You will need your account number, which can be found on the paper bill you get in the mail. 
You will be sent a paper statement in the mail each month unless you sign up for paperless billing. You can send your payment back in the pre-addressed envelope included in your bill.
Payments sent through the mail should be made by check or money order. Do not send cash in the mail. Post-dated checks will not be accepted.
Pay your bill over the phone using our automated payment system. Call our main line (970) 247-5786 any time, day or night, and select the pay-by-phone option in the phone menu. Debit and credit cards are accepted.
If it is your first time using our pay-by-phone system, you will be prompted to verify your identity and set up a 4-digit pin for the safety and security of your account. Please remember that pin so you can use it again in the future. Call us with any access issues.
FRAUD ALERT! Due to data security laws, we are not allowed, and will never request, to take your payment details in person over the phone. If someone calls you threatening to disconnect your service unless you pay over the phone with them, hang up and call us.
Bring your payment to our office in Durango or Pagosa Springs.
Office hours are as follows:
Durango: Monday-Thursday, 7:30 a.m.- 5:30 p.m.
Pagosa Springs: Monday – Thursday, 7 a.m.- 6 p.m. (closed from 1:30-2:30 for lunch)
All payments received through the night drop box are posted throughout the day Monday-Thursday 7 a.m. to 6 p.m. Any payment received after 6 p.m., will be posted to the account the next working business day.
The kiosk accepts all major credit cards, banking account details, and/or cash. Kiosks cannot make change. Any extra cash inserted will be applied to your account either as a credit or toward a remaining balance.
Bill Pay Programs

Check out these programs to make paying your LPEA bill even easier!
Budget Billing helps you avoid seasonal highs and lows with an even monthly payment.
To be eligible for this free program you must:
have had an account in your name for at least one year at the same service address
have an acceptable credit history
have a residential account (commercial accounts are not eligible)
enroll in the program in May or June of each year
Budget Billing amounts are calculated in May based on your average utility bill across 12 months of use. Any bill credits, or amounts remaining at the end of each year, must be settled before restarting the program for another year.
If your use patterns dramatically increase or decrease during the billing year, please contact us to recalculate your monthly average (970) 247-5786.
Do you have more than one LPEA service account? If so, get rid of those extra billing statements and have all your charges billed on one detailed invoice. You can then pay your bills in one easy payment. Call us to see if you qualify for this service (970) 247-5786.
PrePay accounts allow you to pay upfront for your electricity use and avoid monthly bills. Text and/or email notifications will alert you when your balance is low and needs to be recharged. 
To qualify for a PrePay account, LPEA members must: 
have an automated meter installed on their service  
get verbal consent from the landlord before establishing prepay for the tenant (if a standing order exists on the account) 
pay a $25.00 to $65.00 non-refundable start-up fee  
Should a PrePay account go into a negative balance, no extra fees are required to reinstate power. Power will turn off automatically when the account goes into a negative balance and will turn on again when the account has a balance of more than $5.01. 
Enjoy the convenience of having your bill automatically paid monthly from your bank account or card when you enroll in AutoPay. With AutoPay, you don't have to worry about due dates or late fees since your monthly payment is automatically deducted from your account on a date you select.
Please note that AutoPay will begin with your next bill after you sign up. Outstanding balances will need to be paid, or they will show "past due" on your next bill. Please do not sign up for the AutoPay Program if you have scheduled a future payment.
Call us at 970-247-5786 to choose a monthly payment date that is most convenient for you.
We understand life can be unpredictable. That's why we do our best to work with you and your situation. We have programs that may help you with your past-due bill. Our policies on late payments are outlined below.
An LPEA bill is considered past due when not paid by the date printed on the bill. If payment is not received three days prior to the next billing date, a reminder/disconnect notice is mailed out for the first two occurrences in a one-year period.
Should a third notice be required, a disconnect notice will be sent and a late fee will be levied for either $4.00 or 1.75% of the past due balance, whichever is greater.
If payment is not received by the due date on the disconnect notice, the service will be terminated. Additional charges are required to restore service after it has been disconnected.
If you are having trouble paying your bill, please call us at (970) 247-5786. We can evaluate your situation and suggest payment plans, budget billing options, or rate changes. We can also refer you to local agencies with funds available for utility bill assistance.
Additional Resources:
---
Be aware of third-party bill pay websites
We want you to be aware of third-party companies may give the impression that they are an official LPEA bill pay site. These companies are NOT affiliated with LPEA. You might stumble upon such a company if you Google search terms like "Pay my LPEA bill." They appear as an option in the search results and may mislead members into thinking they are on our website. Don't be misled! 
While some of these payment sites do work, our members have reported delayed payments, missed due dates, and additional service fees when paying through these third-party sites. Indeed, some of these third-party sites may use our name and logo. They make it appear as if the service is affiliated with LPEA when it is not. This has caused confusion and created a hassle for some LPEA members.  
This is a reminder that LPEA only recommends the use of its official payment tool, SmartHub, which is a quick, secure, convenient, and FREE way for members to pay their bills and manage their LPEA accounts. 
Please get in touch with us if you have any questions: (970) 247-5786