LPEA's board voted in December 2019 to raise rates – for the first time in four years – to adjust for the cost of inflation and to finance system improvement projects needed to maintain LPEA's reliability and proactively prevent outages. LPEA has been financing its infrastructure improvement projects via cash reserves for more than five years, and now cash reserves are running low. The board approved the increase to generate additional needed funds. This was done in lieu of borrowing (to avoid interest) and was done only after LPEA trimmed nearly 1 million dollars from its budget. LPEA has budgeted for a total of $16.2 million in capital improvements to our facilities in 2020. 
If you have questions or  concerns on LPEA's budget, we welcome you to attend our monthly Finance and Audit Committee meetings, which are live streamed and open to the public.
Capital credits represent each member's ownership of the cooperative. They are the margins credited (or allocated) to the members of the cooperative based on their purchases from the cooperative the previous year. These margins are used by the cooperative as capital to operate the business. LPEA bylaws state that capital credits are refunded to the members only after the Board has reviewed the economic ability of the co-op to retire capital credits (Article VII Section 3 and Board Policy 205). LPEA retires capital credits on a 20-year cycle, so that margins allocated to members from 1998 were retired in 2019. 
Each year, the board decides whether to retire capital credits and put the money in the hands of members and ex-members. There are two 'buckets' of funding for capital credits – the first is 'Coop' capital and the second is 'G&T' capital. The G&T capital is the amount allocated to LPEA as a member of Tri-State. The Coop capital is everything else. In 2017 and 2018, LPEA retired capital credits from both buckets (3.9 million and 5.3 million respectively) and distributed to members and ex-members. 84% of the total refund checks were less than $200.
In 2019, LPEA retired $3 million in capital credits, all from the Coop bucket. LPEA also had $2.9 million in capital credits from the G&T bucket, but the Board opted not to retire those funds. The funds would have principally benefited those who were members in 1998, of which 70% were not current members. Instead of allocating those funds to inactive members, the board voted in October 2019 to use those funds to establish a Rate Stabilization Fund (i.e. savings account) that would benefit all active members in case of an emergency. This fund is what allowed LPEA to defer the scheduled 2020 rate increase from April 1st to July 1st during the COVID-19 pandemic. The unused funds remain in that account to be used for future emergency purposes as approved by the board.
There are three main reasons that LPEA is exploring an exit from Tri-State (1) we have a right to explore all options that may benefit our members 2) high rates and (2) lack of local control. 
I.  Right to Explore Opportunities
LPEA has the right to explore an exit from our contract with Tri-State, which currently runs through the end of 2050. Tri-State is owned by 42 rural electric cooperatives and was formed on the principles that it would a) benefit its members and b) allow for its members to withdraw on equitable terms and conditions determined by its Board of Directors.
In July of 2019, LPEA asked Tri-State to provide a fair and equitable exit charge. The LPEA Board of Directors wanted to explore multiple options (Resolution 2019-10), which included (1) staying with Tri-State and working to increase contract flexibility (2) fully exiting the contract (3) or finding a middle option.
But, instead of supporting LPEA's independent decision-making power, Tri-State passed bylaw changes and board resolutions that took away the local decision-making authority of the Colorado Public Utilities Commission in favor of federal regulation by the Federal Energy Regulatory Commission (FERC). 
Tri-State has also shown a reluctance to work with other utilities seeking fair and equitable exit charges. They initially prescribed an exit charge of $137 million for Kit Carson, but ultimately agreed to $37 million. Likewise, they initially quoted Delta-Montrose $322 million but ultimately agreed to $62.5 million. These reductions only came after long, expensive, multi-year court battles.  
After one year, and multiple court proceedings, Tri-State will still not provide LPEA with an exit charge. As we don't yet have an exit figure, we can't yet evaluate what option makes the most sense for our members. If we do elect to leave, LPEA will pay our fair share, as others have done, to ensure our exit will not harm other co-ops.
II.  Right to Affordability
The only way to limit more rate increases is to explore options for cheaper energy, which makes up the majority of LPEA's expenditures. Between 2000-2016, Tri-State raised its rates 12 times, doubling the price LPEA was paying for power over that period. Its administrative expenses also increased 73% between 2017 and 2019. 
According to Standard and Poor's, which downgraded Tri-State's credit rating last November, Tri-State's rates are 20% higher than average. What's more, Tri-State estimates its rates will continue to increase an average 2% per year through 2050 (see graph), even while energy costs are trending downwards.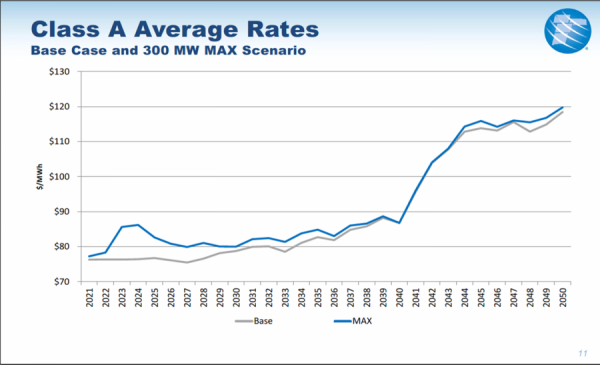 These cost increases are not indicative of all power sources. As just one example, Holy Cross Energy – a comparable cooperative in northwest Colorado that sources its own energy – spends 44% less on their energy than we do. 
LPEA's initial (very conservative) calculations for leaving Tri-State and pursuing other energy options estimate hundreds of millions of dollars in cost savings over the life of LPEA's current contract (through 2050).
It's true that LPEA has incurred legal fees to pursue an exit charge, but we believe the investment is worth it for the estimated savings. We only wish that Tri-State would work with us – and other members – so legal fees were not necessary in the first place. 
III.  Right to Local Control
One of the single most effective ways to help restart our rural economy after COVID-19 is to support local projects. In paying Tri-State, we are sending our money to the front range, to a large corporation where we have little say in cost management, operating procedures, and energy portfolios. 
To Tri-State's credit, they are pursing options to make their energy portfolio cleaner. This was largely in part to member pressure, and to independent analysis like that of the Rocky Mountain Institute, which found in a 2018 report that Tri-State could save its members 600 million by closing coal plants and boosting renewables. According to their report, Tri-State's commitment to its existing coal plants contributed to rates increasing more than 5 times the national average between 2007-2016.
To support Tri-State's effort to create a cleaner energy portfolio, and to remain as a member with Tri-State, we asked to partner with them to help build, own, and operate the 120MW solar installation they proposed to build in our service territory. We also offered to partner with the union to help retrain and employ displaced coal workers, and to partner with our local educational institutions to create opportunities to educate our youth. It seemed like a win-win-win opportunity, but Tri-State said they were not interested in partnering with us on this project. Our efforts to pursue other local power generation projects have also been stymied by limitations in our existing contract. 
We believe our community should have the right to make its own choices that work best for our unique location and resources and not be beholden to a one-size-fits-all model.
LPEA has an almost 30-year history with Tri-State. We appreciate this relationship and the valuable service they have provided to LPEA and our members for decades. We were looking forward to continuing to work with Tri-State and were disappointed about their unwillingness to support our desire to grow and change. Many wholesale power providers across the US have found productive and positive ways to meet their member's needs while remaining viable and profitable. 
Tri-State has been a good partner to LPEA in the past. We are asking them to remain a good partner by allowing us to examine all energy options and do what is best for our local communities – especially in light of the new economy in which we live.
This question was posed prior to the 2020 Annual Meeting and partially answered at the meeting by then Board President Bob Lynch. At that time however, he was unable to give the full answer as we were advised by our attorneys not to share those figures until after the court hearing at the Colorado Public Utility Commission. Now that the court hearing has concluded, we can share the costs accrued on research and litigation around the Tri-State buyout per year as follows:
2018: $18,327
2019: $378,141
2020 (as of May 26th): $892,942
These expenditures represent less than 1% of LPEA's total budget and are within budget parameters as approved by the board. They were incurred mostly after August 21st, 2019, when the LPEA board passed Resolution 2019-10, requesting LPEA employees to pursue multiple options with Tri-State (full buyout, partial buyout, or amendments to current contract) to better meet the needs of our membership.
LPEA's initial (conservative) estimates show that we could save hundreds of millions of dollars over the life of our contract with Tri-State by exiting early. As just one example, Holy Cross Energy – a comparable cooperative in northwest Colorado that sources its own energy – spends 44% less on their energy than we do. It is the fiduciary responsibility of the board to explore all avenues that would result in cost savings for LPEA's membership. That is why we believe the costs being incurred for legal fees to pursue an exit charge are worth the initial investment. 
These costs would not have been necessary if Tri-State had supplied an exit charge when initially requested in July of 2019. LPEA has the right to explore an exit from our contract with Tri-State, which currently runs through the end of 2050. Tri-State is owned by 42 rural electric cooperatives and was formed on the principles that it would a) benefit its members and b) allow for its members to withdraw on equitable terms and conditions determined by its Board of Directors.
Energy commodity pricing moves up and down frequently, but LPEA's power supply has very little exposure to these pricing fluctuations. 37% of LPEA's power supply comes from renewables which have fixed pricing. 52% of our power supply currently comes from coal that is located at the generation source and owned by Tri-State (our wholesale power provider) so it's not susceptible to pricing fluctuations. Only 11% comes from natural gas and open markets and therefore has little impact on the overall total. Tri-State's wholesale rates to LPEA remain fixed the entire year and absorb the small pricing fluctuations. If at the end of the year, commodity pricing is below what was budgeted, then that will produce margins at Tri-State that get allocated back to LPEA in the form of capital credits which are in turn allocated to our members.
There are several ways to time your usage for the benefit of the system in conjunction with solar. The first would be to remain on the standard rate and time your usage to coincide with your solar production. This will take full advantage of the power you are self-producing and minimize the reverse power flow onto the grid. Keeping reverse power flow to a minimum allows LPEA to interconnect even more distributed solar resources onto the system.
Another option would be to sign up for LPEA's Time of Use (TOU) rate. As a general rule of thumb, if you have more controllable load than you have solar capacity, you should consider LPEA's TOU rate. For instance, if you add a timer to a 4.5 kW electric water and your solar array is 4.5 kW or less, you should consider TOU.  If you have an electric vehicle, that is another 4-7 kW of controllable load.
40% of LPEA's energy use occurs between the hours of 8am and 6pm when solar resources are plentiful.  Small, battery banks can be used in conjunction with the solar to ensure daytime cloud cover is mitigated.  Solar plus storage projects can be extremely cost effective and provide savings to LPEA and its members.