You may have seen the media coverage recently of LPEA's case against our current power provider Tri-State. In March, the Federal Energy Regulatory Committee (FERC) ruled that LPEA's complaint against Tri-State can proceed to be heard by the Colorado Public Utility Commission (PUC) as planned. LPEA filed the complaint last November, together with United Power (the largest cooperative in Colorado), because Tri-State would not provide a just and reasonable exit charge for the utility to consider an exit from its current power contract. 
LPEA has received some questions on this case and our potential move away from Tri-State. Here are a few of the most frequently asked questions, and our answers, to help you understand the situation at hand.
Is LPEA going to exit its contract with Tri-State?
We don't know yet whether it makes sense to exit our contract with Tri-State because they have not yet provided a figure of what that would cost. Since we don't have an exit number, we can't determine the best course of action for our members. LPEA has a strategic goal to reduce carbon 50% by 2030 while remaining cheaper than 70% of our Colorado cooperative peers, and to achieve this we must explore every option available.
Why would LPEA want to exit its contract with Tri-State?
In recent years, rural electric cooperatives like LPEA have been looking to increase the amount of carbon-free energy they can produce locally while also keeping rates affordable for their members. This is not just to reduce their carbon footprint, but also to create jobs, partner with local educational institutions, boost the local economy, and become more resilient in case of cyber-attacks and emergencies.
But, as members under contract with Tri-State, cooperatives like LPEA are limited in multiple ways:
First, local renewable energy production is limited to a small percentage of the total power we use.  
Second, more than half of the power provided by Tri-State in 2018 came from coal, a higher percentage than other electricity providers in Colorado.
Third, Tri-State's credit rating was downgraded by S&P in 2019 because its electricity costs are as much as 20% higher than the Colorado average. LPEA's current contract with Tri-State also allows unlimited rate hikes until 2050. Tri-State raised rates 12 times between 2000 and 2016, doubling the price LPEA pays for power.
This has caused some rural cooperatives, like LPEA to consider other options. 
Is LPEA the only cooperative looking to exit Tri-State?
No. Kit Carson Electric, of Taos, was the first to leave Tri-State due to frustrations over high power costs. They paid $37 million to break their contract and enter the open energy marketplace. Delta Montrose Electric Association followed shortly thereafter, frustrated by Tri-State's high cost of power and their attempts to keep renewables capped at just 5%. After one year, Delta Montrose and Tri-State settled on an exit number in 2019. 
Q: Isn't LPEA now allowed to locally generate more than 5% of its power supply under Tri-State? 
Yes, but only to a small degree. LPEA and other Tri-State cooperatives recently received the ability to add additional Community Solar Garden resources. For LPEA this is limited to a 2 MW installation. That effectively increases LPEA's local renewable generation ability up to 5.4%, so only a .4% point increase.
To Tri-State's credit, they are pursing options to make their energy portfolio cleaner – due in large part to the pressure applied by LPEA and state law (Colorado state law HB19-1261 requires that the state reduce carbon emissions related to electric utilities 80% by 2030). While Tri-State's efforts in this regard will help meet LPEA's carbon reduction goal, we do not yet know what the costs of its plan will be to our members and what LPEA's role will be for producing local, renewable energy into the future. We believe our community should have the right to make its own choices that work best for our unique location and resources and not be beholden to a one-size-fits-all model.
What is LPEA's complaint against Tri-State about?
As the others had done, LPEA and United Power attempted to work with Tri-State to request an exit figure for our contracts. But at the same time, Tri-State was working to change which agency regulates its rates and settles disputes with its members from state utility commissions like the PUC, to the FERC. This effort was to circumvent local regulators. 
The PUC and LPEA both filed a motion to intervene with FERC, objecting to Tri-State's desire to be federally governed, and to maintain local control. During these proceedings, Tri-State still declined to provide an exit charge, and so, in November of 2019, LPEA and United Power filed a formal complaint against Tri-State with the PUC. 
On March 20th, FERC sided with LPEA and the PUC, ruling that the PUC's jurisdiction is not currently preempted, and the complaint can proceed to a hearing at the PUC. LPEA anticipates direction from the PUC soon regarding next steps and an evidentiary hearing following this decision from FERC.
Aren't all these court proceedings costing money? Is the cost worth the benefit?
In short, yes. The only way to limit more rate increases is to explore options for cheaper energy, which makes up the majority of LPEA's expenditures. Between 2000-2016, Tri-State raised its rates 12 times, doubling the price LPEA was paying for power over that period. Its administrative expenses also increased 73% between 2017 and 2019. What's even more concerning is that Tri-State estimates its rates will increase an additional 50% by 2050 (see Tri-State graph below), even as energy rates are trending downwards.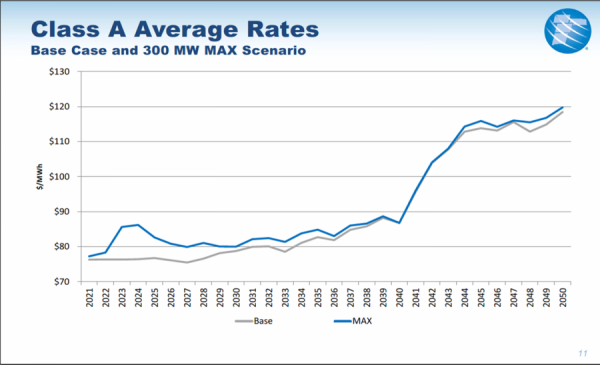 LPEA's initial (very conservative) calculations for leaving Tri-State and pursuing other energy options estimate hundreds of millions of dollars in cost savings over the life of LPEA's current contract (through 2050). It's true that LPEA has incurred legal fees to pursue an exit charge, but we believe the investment is worth it for the estimated savings.
Why does LPEA want to pursue low-carbon energy sources to save costs? I thought low-carbon energy options like solar were more expensive than fossil-fuel based options like coal.
The cost of renewable generation used to be more expensive than traditional resources like coal or gas, but this is no longer the case. From 2013 on, the cost of renewable generation became less expensive thanks to technological advancement and other factors, and this trend continues to today.  
A nationally recognized financial advisory firm recently released its latest report on the Levelized Cost of Energy, which offers a look at the cost of various forms of generation. The report shows that utility-scale solar and wind generation are now the least expensive form of electricity. This is true even before tax credits for renewables are factored in. In fact, utility-scale renewables are so inexpensive that brand new solar or wind facilities can generate electricity for less than the operating costs alone for an average traditional coal plant. In other words, it would cost less to generate energy with a brand-new renewable installation than it would to simply add fuel and run a pre-existing coal plant.  The argument that renewables are "too-expensive" is outdated and incorrect.
The bottom line…
LPEA believes our community should have a choice.  We want to be a part of the clean energy future and can achieve this by working in our backyard, with our community. We can bring jobs and economic growth to La Plata and Archuleta counties, while also providing educational opportunities to our kids and supplying carbon-free energy to the region – and we can do it while keeping power costs affordable. LPEA is hopeful that Tri-State will support and allow us to achieve our goals and objectives. We want input into the process and choice when it comes to a cost-effective, resilient, and clean energy future, not a one-size-fits-all approach developed without input of the affected member cooperatives.