LPEA Future Power Supply
In August of 2019, the LPEA board passed Resolution 2019-10, requesting that LPEA employees pursue multiple contract options with Tri-State Generation & Transmission, which currently supplies LPEA with 95% of the electricity we deliver to our members. LPEA's current contract with Tri-State runs through 2050.
These options included:
a full exit;

a partial exit;

amendments to our current contract to allow more flexibility to better meet the needs of our membership.
Since then, LPEA has been actively exploring all three of those avenues. You can see a full timeline of our engagement with Tri-State around these three options HERE. 
This page houses the latest updates around this exploration and frequently asked questions and answers. If you have any questions or comments about this process, please email us at contact@lpea.coop.
Updates
Each year, the majority of LPEA members experience one power outage or less. That means we keep the lights on in your home or business 99.998% of the time. To achieve this, we closely monitor power outage frequency and duration and address problem areas with system upgrades or additional maintenance.
But maintenance on LPEA's transmission and distribution network is only half of the reliability equation. The other half is power supply because before we can deliver you electricity, it must be generated. As LPEA explores new power supply options to deliver you affordable, low-carbon power into the future, there is one thing we will never sacrifice: reliability.
You depend on electricity every hour of every day, and LPEA's future power supply must support that. Renewable resources will play a large role in LPEA's future power supply mix, but in the near-term other dispatchable generation will also be needed. Dispatchable generation typically uses a fuel, like natural gas, that can be turned on and off as needed to meet your electricity needs.
To maximize the use of renewables in LPEA's future power supply – without sacrificing reliability – we are currently implementing a Distributed Energy Resource Management system. Through this system, devices like electric vehicle chargers, programmable thermostats, and water heaters can be managed to align their energy consumption with times of plentiful renewable generation without inconveniencing you, our members.
In the future, LPEA will receive some of our power from local generation resources connected directly to our system, but LPEA will also receive power from the Bulk Electric System to ensure the diversification and redundancy needed for reliable power delivery. This is necessary to avoid situations, like the one that occurred in California last summer, where demand for electricity exceeded the generation that was available at the time.
In short, through careful planning and resource diversity, you will continue to receive the same reliability LPEA is known for, regardless of future power supply selection.
There are three main reasons that LPEA is exploring an exit from Tri-State (1) we have a right to explore all options that may benefit our members (2) high rates and (3) lack of local control. 
I.  Right to Explore Opportunities
LPEA has the right to explore an exit from our contract with Tri-State, which currently runs through the end of 2050. Tri-State is owned by 42 rural electric cooperatives and was formed on the principles that it would a) benefit its members and b) allow for its members to withdraw on equitable terms and conditions.
In July of 2019, LPEA asked Tri-State to provide a fair and equitable exit charge. The LPEA Board of Directors wanted to explore multiple options (Resolution 2019-10), which included (1) staying with Tri-State and working to increase contract flexibility (2) fully exiting the contract (3) or finding a middle option.
But, instead of supporting LPEA's independent decision-making power, Tri-State passed bylaw changes and board resolutions that took away the local decision-making authority of the Colorado Public Utilities Commission in favor of federal regulation by the Federal Energy Regulatory Commission (FERC). 
Tri-State has also shown a reluctance to work with other utilities seeking to exit. They initially prescribed an exit charge of $137 million for Kit Carson, but ultimately agreed to $37 million. Likewise, they initially quoted Delta-Montrose $322 million but ultimately agreed to $62.5 million. These reductions only came after long, expensive, multi-year court battles. 
As we don't yet have an exit figure, we can't yet evaluate what option makes the most sense for our members.  
II.  Right to Affordability
The main way for LPEA to limit more rate increases is to explore options for cheaper energy, which makes up most of our expenditures. According to Standard and Poor's, which downgraded Tri-State's credit rating last November, Tri-State's rates are 20% higher than average. Between 2000-2016, Tri-State raised its rates 12 times, doubling the price LPEA was paying for power over that period. Tri-State's administrative expenses also increased 73% between 2017 and 2019. 
These cost increases are not indicative of all power sources. As just one example, Holy Cross Energy – a comparable cooperative in northwest Colorado that sources its own energy – spends 44% less on their energy than we do. What's more, Tri-State estimates its rates will increase an additional 50% by 2050, even while energy costs are trending downwards. With more than 3 billion dollars in long-term debt, it will be difficult for Tri-State to do anything but raise rates for many years to come.
LPEA's initial, conservative calculations for pursuing other energy options estimate hundreds of millions of dollars in cost savings over the life of LPEA's existing contract with Tri-State. That is why we believe the costs being incurred for legal fees to pursue an exit charge are worth the initial investment. We only wish that Tri-State would work with us – and other members – so legal fees were not necessary in the first place.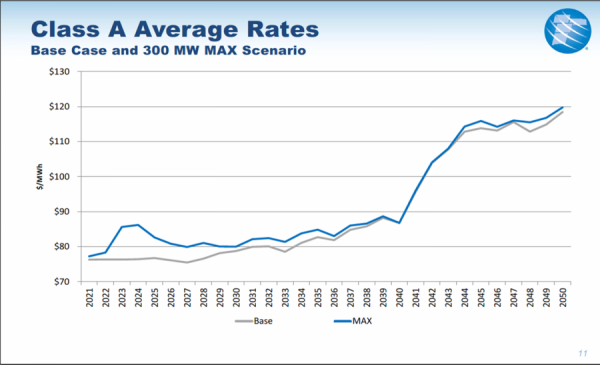 III.  Right to Local Control
Two of the board's initial concerns with Tri-State which led them to want to explore other options were their coal-heavy energy portfolio, and the limitation that only allowed LPEA to generate 5% of our power from local renewable sources. To their credit, they are working to fix these issues, but their solutions are still far from ideal.
Tri-State is working to clean up its energy portfolio, due largely to member pressure and to independent analysis like that of the Rocky Mountain Institute, which found in a 2018 report that Tri-State could save its members 600 million by closing coal plants and boosting renewables. According to that report, Tri-State's commitment to its existing coal plants contributed to rates increasing more than 5 times the national average between 2007-2016. 
Tri-State is also pursuing options to allow its members to supply more of their own power, but there are limitations. If all of Tri-State's members were to use the self-supply option, LPEA would only be able to provide renewables to 10% of our load, and we want to do much more than that. 
LPEA has an almost 30-year history with Tri-State. We appreciate this partnership and the valuable service they have provided to LPEA and our members for decades. We are asking them to remain a good partner by allowing us to examine all energy options and do what is best for our local communities – especially in light of the new economy in which we live.
For a full timeline of LPEA's engagement with Tri-State around this issue, CLICK HERE
Our legal costs to pursue a potential exit from Tri-State are as follows: 
2018: $18,327 
2019: $378,141 
2020: $1,520,416
2021(to date): $17,321 
These expenditures represent a small fraction of LPEA's total annual budget. LPEA's initial estimates show that we could save hundreds of millions of dollars over the life of our contract with Tri-State by exiting early. That is why the board believes the costs being incurred for legal fees to pursue an exit charge are worth the initial investment. 
LPEA spends roughly $72 million each year sourcing power. This is roughly 64% of our total annual budget. Even a modest 2% decrease in power costs returns an annual savings of $1.44 million. That would repay the legal costs spent to achieve it quickly. 
These costs would not have been necessary if Tri-State had supplied an exit charge when initially requested in July of 2019. LPEA has the right to explore an exit from our contract with Tri-State, which currently runs through the end of 2050. Tri-State is owned by 42 rural electric cooperatives and was formed on the principles that it would a) benefit its members and b) allow for its members to withdraw on equitable terms and conditions determined by its Board of Directors.
Tri-State does have a very large debt load in relation to its overall assets but has been taking steps in 2020 to reduce its interest costs by refinancing much of its debt at a lower rate. They have also implemented other cost-cutting measures. However, there are still concerns about the debt load and that is one of the reasons why LPEA is exploring its options and looking for more flexibility in its power supply options.
LPEA regularly evaluates our rate structure by performing Cost of Service analyses. These assess the costs incurred by LPEA and evaluate how much revenue must be generated from electric sales to members to cover these costs and provide a margin to finance the maintenance and operation of our electrical infrastructure. This 'revenue requirement' determines our electric rates and that requirement will decrease if power costs are substantially reduced.
Transmission services would still need to be purchased from either Tri-State or WAPA, as they are now. These costs have been considered when evaluating the economics of alternative power supply options.
Yes and no. If the solar production fed into the grid is later consumed by the producing member, then no. But, if over a one-year period the member has generated more electricity than they used, then that excess amount of electricity generated above and beyond what they used does count towards the 5%.